One of the best parts of spring weather is the scent of a freshly mowed lawn. But if you are suffering from allergies, you may not get to experience this tiny luxury. Oh well, there is always next year…But wouldn't it be great if there was a way to combat silly spring allergies? According to WebMD, there is: "Dust mites, mold spores, pollen and pet dander in the air inside your home can cause problems if your family has allergies or asthma. Using HEPA filters can trap these pollutants and may help bring allergy relief." Yes, it is HEPA air purifier to the rescue!
HEPA refers to High Efficiency Particulate Air, a technology used to help prevent the spread of contaminants and pollutants and help ensure indoor air quality in commercial and healthcare spaces. These highly efficient machines help prevent the spread of infection and provide clean air for patients to breathe.
Smaller units you can purchase for your home use this same technology to reduce particles in the air, including dust, pollen, pet dander, mold and many other substances too small to see that float suspended in the air. Some of these small offenders, in particular dust mite allergens, are incredibly difficult to rid from your home. Ensure they are kept away from children and sensitive family members by using a HEPA air purification unit, which provides a healthier, cleaner living environment for you and your family.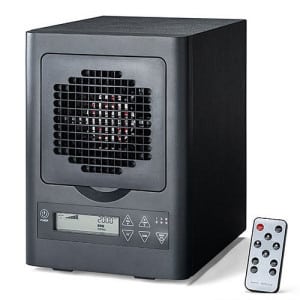 How Does a HEPA Air Purifier Work?
HEPA air purifiers contain a thin filter made up of densely packed glass fibers that allow air molecules to pass through, but not larger pollutant molecules. These HEPA filters can trap up to 99.97 percent of airborne particles that measure 0.3 microns or larger. Removing these harmful pollutants can drastically improve the quality of your indoor air, consequently lowering the potential for allergy-inducing triggers in your home.
Where Should I Put My New Air Purification Unit?
Families who have allergy sufferers or have those susceptible to respiratory issues—including children and the elderly—should consider a HEPA air purifier for the rooms where members spend most of their time: bedrooms, living spaces and home offices. The basement may also be a high priority if anyone spends time down there. Additionally, if you share your home with your four-legged furry friends, a HEPA air purifier can help reduce the amount of pet dander in the air you breathe.
Start breathing easier today! Find HEPA air purifiers you can trust by working with Zen Living Air Purifiers.